(Now Trulieve)
Monday - Saturday
9:00AM - 8:00PM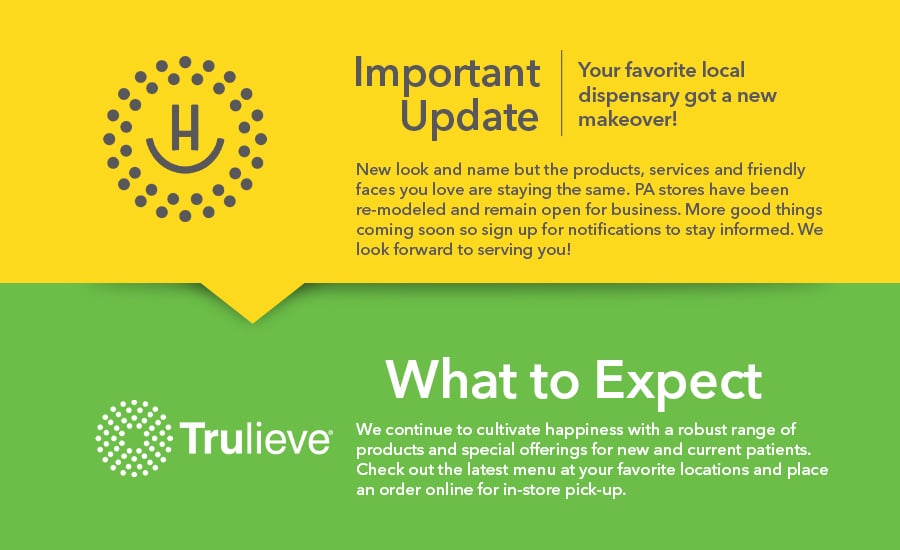 - Camp Hill -
Deals
Moxie Price Drop
Moxie Mimosa 3.5g & 7g Flower Price Drop! $30 for 3.5g & $55 for 7g! (while supplies last)
Avenue Smalls Yellow Brick Road Price Drop
Avenue Smalls Yellow Brick Road Price Drop - Avenue Smalls 7g Price Drop! Yellow Brick Road 7g Smalls now for $70! (whil ...
Moxie Flash Sale
Moxie Mimosa: 3.5g for $15 or 7g for $25 While supplies last.
Standard Saturday
20% off Standard Farms (excludes flower)
FarmRx Fridays
FarmRx FRIDAYS! Enjoy 20% off FarmRx products
First Time Discount
1st Visit: 50% off total 2nd Visit:15% off total No minimum spend amount.
Veteran's Discount
Veterans Discount: 20% off (Stackable with SNAP up to 30%)
Snap Discount
SNAP Discount: 10% off (Stackable with Veterans up to 30%)
Senior Sundays
Senior Sundays:10% (Sundays only & Stackable with Veterans up to 30%)
Birthday Discount
Birthday Discount: 25% (1 time during birthday month)
Industry Discount
Industry Discount: 20% (Tuesdays only for industry and medical professionals)
Card Renewal Discount
Card Renewal Discount: $50 off Card Renewal ($50 off of $150 spend)
Sign up for our loyalty club and text alerts
*Message and data rates may apply. Please see your carrier for more details.
Visit Our
Camp Hill, PA Location
Stop into Harvest of
Camp Hill dispensary
for a personalized medical marijuana shopping experience! Harvest HOC is conveniently located on Hartzdale Drive in Camp Hill, Pennsylvania, where we offer a wide range of products and consumption methods. Our courteous and knowledgeable staff are here to assist you in finding the right medication to meet your needs, whether it's RSO, a CBD tincture, or traditional flower. Let us welcome you to the Harvest family!